Youth Contests
This section is dedicated to Youth Contests, Program, & Activities. Regardless of NGC Contest Rules, all entries must be submitted to RIFGC Awards Chairs by Dec. 15. Click here for the Youth Contest Full Information & details.
The following Contest are sponsored by the National Garden Clubs, Inc. Click here for the Youth Contest full information & details.
The Rhode Island Federation Youth Chairman is;
Linda Alves [email protected]
1310 Pippin Orchard Road, Cranston, RI 02921
401-821-7425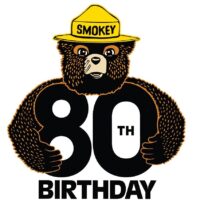 Smokey Bear Poster Contest
First through fifth grade students are invited to demonstrate through original drawings of Smokey Bear their understanding of fire prevention and basic environmental conservation principles. The Grand Prize National Poster Winner will win a free round-trip airfare and accommodations for four to Washington, DC. $50 will also be awarded to the First Place National Winners from each grade level sponsored by National Garden Clubs.
Entries should be brought to the December 6,2023 meeting or make arrangements with the RIFGC Youth Chairman Linda Alves.
Click here for all the information needed to participate.
Poetry Contest
NGC's Poetry Contest is open to students in kindergarten through ninth grade. This competition enables youth to embrace their creativity through the art of writing. All of the winning entries will be compiled into a booklet, which will be made available to the winners.
Entries need to be submitted to RIFGC State Award Chairs by December 15,2023. earlier.
Youth Sculpture Contest
This contest encourages students to keep our planet green and to get involved with saving the environment. Students in grades 4 through 8 are eligible to create a sculpture of recyclable, reused and reduced materials. The sculpture is limited in width to 8 1/2 inches by 11 inches. Height should be proportional to width.
Entries need to be submitted to RIFGC State Award Chairs by December 15,2023. earlier.
Youth Pollinator Gardens Grant
National Garden Clubs, Inc. is excited to provide a grant opportunity for Garden Clubs working with youth clubs or groups planning and planting Pollinator Gardens. Grants, up to $200, are available for projects that include educational materials on the vital role pollinators play in nature and youth involvement in planning and planting gardens providing nesting and food sources for pollinators. Youth will learn the importance of providing appropriate food sources, nesting areas, shelter, and practicing sustainable gardening practices for pollinators by planning, planting, and maintaining these pollinator gardens.
To apply for a grant, complete an NGC Grant Application, provide detailed information about the project, and submit your request to the NGC Youth Committee Chairman for approval.